Face Masks May Raise Risk of Stillbirths, Testicular Dysfunction and Cognitive Decline, Study Warns
Face Masks May Raise Risk of Stillbirths, Testicular Dysfunction and Cognitive Decline, Study Warns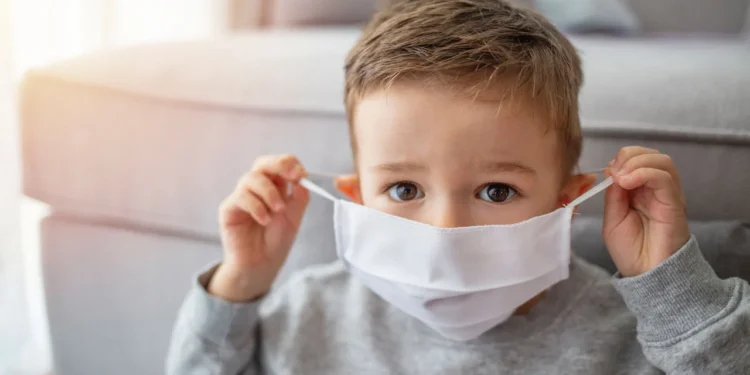 Face masks may raise the risk of stillbirths, testicular dysfunction and cognitive decline in children, new research suggests.
The reason? According to a review of dozens of studies on face coverings, they can cause carbon dioxide poisoning when worn over long periods. DailyMail.com has more.
The German academics who carried out the research believe masks create a pocket of dead space between the mouth and mask, which traps the toxic gas.

They say the build-up of CO2 in pregnant women's bodies could cause complications for the unborn fetus. They point out that CO2 also contributes to oxidative stress, which can affect cognition and cause testicular issues in men.

But independent doctors have questioned the conclusions of the study — which never directly looked at health complications and mask use, describing the link as "unlikely".

Alluding to the surge in stillbirths during the pandemic, the German researchers said: "Circumstantial evidence exists that popular mask use may be related to current observations of a significant rise of 28% to 33% in stillbirths worldwide."

"[And] reduced verbal, motor, and overall cognitive performance of two full standard deviations in scores in children born during the pandemic," the researchers wrote in the paper, published in the journal Heliyon.

But the study could not conclusively prove that the masks were directly responsible for any of these complications. …

The German research team gathered data from 43 previously published studies on exposure to CO2, mask-wearing and pregnancy.

They found that after wearing a mask for more than five minutes, CO2 levels in the inhaled air rose to between 1.4% and 3.2%.

One mask study conducted in Germany, researchers measured the CO2 concentration of air behind surgical masks worn by 15 healthy men. Within 30 minutes, the CO2 concentration rose to roughly 2.8-3.2%.

In another study in Italy, scientists measured the air under surgical masks worn in a lab and found a concentration between 0.22 and 0.29% within five minutes.

Masks provide breathing resistance and create a dead space that traps CO2, leading to more inhaled and re-breathed CO2, the reviewers said.
Posted on May 3, 2023, in Uncategorized. Bookmark the permalink. Comments Off on Face Masks May Raise Risk of Stillbirths, Testicular Dysfunction and Cognitive Decline, Study Warns.