Could marijuana break your heart?
Featured Articles in Internal Medicine In the News
Could marijuana break your heart?
Naveed Saleh, MD, MS, for MDLinx | January 23, 2020
It's easy to get caught up in the marijuana hype. After all, everywhere you turn, there seems to be a new weed-based gummy or marijuana-infused tea. And more states are legalizing marijuana for both medicinal and recreational uses. Some of the most popular and common therapeutic uses for marijuana include relief for anxiety, nausea, and chronic pain. Keep in mind, however, that smoking marijuana produces many of the same toxins, irritants, and carcinogens as cigarette smoke, which have been shown to increase the risks of cancer and heart disease.
Advertisement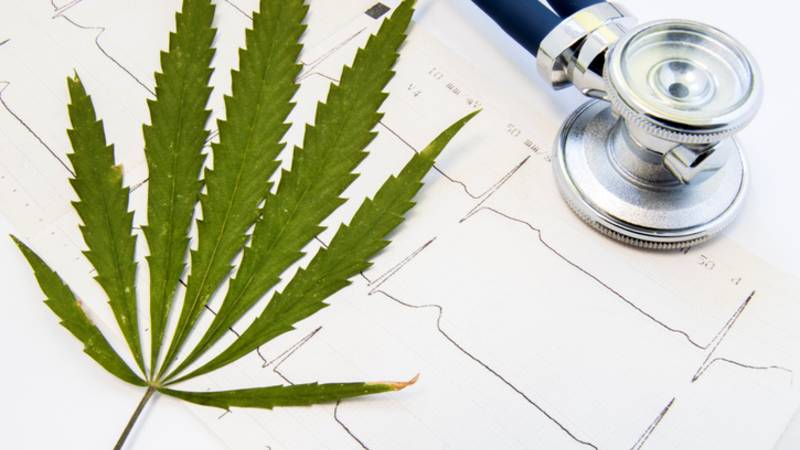 Emerging research has linked marijuana use to adverse cardiovascular effects.
Although more studies on the health effects of marijuana need to be done, emerging research has linked marijuana use to adverse cardiovascular effects.
Physiologic effects
In new users, marijuana increases heart rate, slightly raises blood pressure levels, and can result in orthostatic hypertension. Over time, users become habituated, blood pressure drops, orthostatic hypotension dissipates, and heart rate slows. This habituation results from reduced sympathetic tone and increased parasympathetic tone.
"Marijuana's cardiovascular effects are not associated with serious health problems for most young, healthy users, although occasional myocardial infarction, stroke, and other adverse cardiovascular events are reported," wrote the authors of a review article published in The Journal of Clinical Pharmacology.
However, they cautioned that "[m]arijuana smoking by people with cardiovascular disease poses health risks because of the consequences of the resulting increased cardiac work, increased catecholamine levels, carboxyhemoglobin, and postural hypotension."
Myocardial infarction
Cannabis is a rare trigger of myocardial infarction, according to the results of an oft-cited study that was supported by the National Heart, Lung, and Blood Institute and the American Heart Association. Notably, of 3,882 study participants with acute myocardial infarction, 124 (3.2%) reported marijuana use in the prior year. Of these patients, 37 said they smoked within 24 hours of a heart attack, and 9 said they did it within 1 hour of a heart attack. On a related note, these users were more commonly men, were more likely to also smoke cigarettes, and were less likely to exhibit a history of angina or high blood pressure.
Importantly, among these patients, the risk of heart attack was 4.8 times higher within the first hour of smoking and rapidly dropped thereafter.
Cannabis arteritis
Making its first appearance in the literature in the 1960s, the phenomenon of cannabis arteritis has been described in 50-plus cases ever since. This condition, which is similar tothromboangiitis obliterans, develops in young adults who smoke pot.
Thromboangiitis obliterans, or Buerger disease, is a rare disorder that causes the blood vessels of the arms and legs to inflame, swell, and thrombose. Of note, tetrahydrocannabinol (THC)—the primary psychoactive cannabinoid found in cannabis—is hypothesized to trigger the clotting cascade, which leads to thrombus formation.
Unlike thromboangiitis obliterans, people with cannabis arteritis are more often younger and male. Furthermore, limb involvement is more commonly unilateral.
Although the cause of cannabis arteritis remains to be elucidated, experts hypothesize that it could be due to arsenic byproducts that result in inflammation of the endothelium.
Vasospasm
The most frequent cause of vascular events secondary to marijuana seems to be reversible arterial vasospasm. Furthermore, THC has been linked to coronary vasospasm-induced cardiomyopathy.
Although the mechanisms underlying such vasospasms are unclear, autonomic nervous system dysfunction could play a role, thus resulting in waves of vasoconstriction-dilation. Furthermore, in chronic pot smokers, THC could irritate the vascular endothelium, resulting in an increased risk of vasospasm.
Atherosclerosis
Some researchers have suggested that marijuana could contribute to atherosclerosis.
"Stimulation of the [cannabinoid 1] and [cannabinoid 2] receptors has also been shown to modulate the function of cytoskeletal elements in the vessel wall, which may elicit an inflammatory cascade, resulting in atheroma formation. Because pulmonary and [cardiovascular systems] are populated with [cannabinoid 1] and [cannabinoid 2] receptors, marijuana use has been hypothesized to be involved in the progression of atherosclerotic disease," wrote the authors of a review article published in Missouri Medicine.
However, more research on this subject is required.
Stroke and heart failure
According to high-powered research presented at the American College of Cardiology's 66th Annual Scientific Session, marijuana use is linked to a 26% increased risk of stroke and a 10% increased risk of heart failure—even after adjusting for demographics, health conditions like obesity and hypertension, and lifestyle risk factors such as smoking and alcohol use.
Bottom line
Marijuana is a difficult drug to study because it's still classified as a Schedule I substance by the federal government. Nevertheless, some researchers have shown that it can negatively impact the cardiovascular system. Although these effects may be minimal in otherwise healthy people, those with heart disease are at increased risk.
Posted on December 5, 2021, in Uncategorized. Bookmark the permalink. Comments Off on Could marijuana break your heart?.