Think supplements are worthless? Think again
Featured Articles in Internal Medicine In the News
Think supplements are worthless? Think again
Liz Meszaros, MDLinx | October 07, 2019
Certain supplements may be helpful in treating some mental disorders, according to recent research published in World Psychiatry.
Advertisement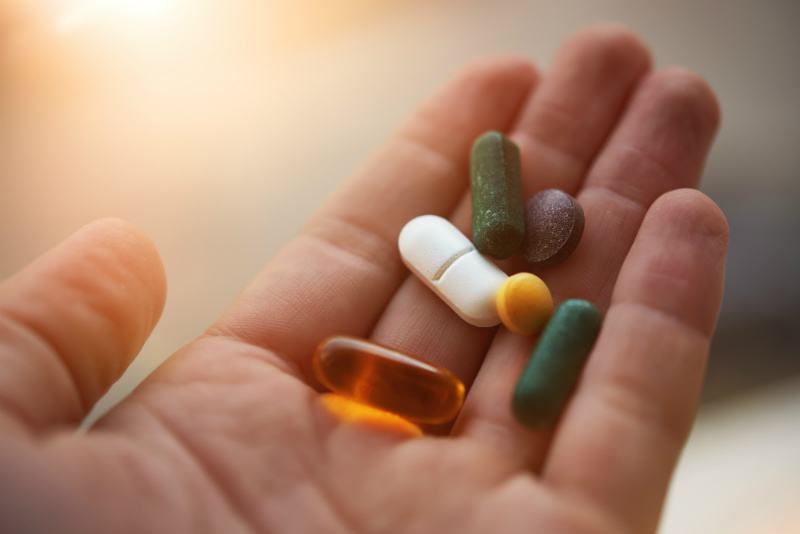 Results of this meta-analysis offer hope that patients with certain mental disorders may benefit from the addition of simple nutritional supplements.
In this meta-analysis of several supplements, researchers found the strongest evidence for the use of omega-3 supplements as adjunctive treatment to antidepressants for patients with depression. Folate-based supplements were also found to reduce symptoms of major depressive disorder (MDD), as well as help with the negative symptoms of schizophrenia. For over a decade, researchers have studied whether omega-3 supplements could be beneficial in treating some forms of depression. Although they did find some benefit, none of the studies were definitive.
The link between supplements and mental illness is not a surprising one, as previous research has documented a relationship between poor diet and mental illness. Data also support the metabolic and hormonal side effects of psychotropic medications on food intake.
"The importance of diet for maintaining physical health is widely accepted, due to the clear impact of dietary risk factors on cardiometabolic diseases, cancer and premature mortality. In parallel, the potential impact of diet on mental disorders is in­creasingly acknowledged," wrote Joseph Firth, PhD, NICM Health Research Institute, Western Sydney University, Westmead, Australia, and colleagues.
To complement and round out dietary nutrients, many people take supplements. In fact, in the United States, 52% of adults take supplements in some form, despite a lack of evidence that supplement use has any effects on diseases or mortality.
"Currently, there is an increased academic and clinical interest in the role of nutrient supplements for the treatment of various mental disorders. This growth of research is partly attributa­ble to our evolving understanding of the neurobiological under­pinnings of mental illness, which implicates certain nutrients as a potential adjunctive treatment for a variety of reasons," added Dr. Firth and fellow researchers.
In this study, they identified 33 meta-analyses of randomized, placebo-controlled trials, which included data from 10,951 participants. Here are their results, classified by the various types of supplements studied.
Polyunsaturated fatty acids (PUFAs). Dr. Firth and colleagues found the strongest evidence for the use of PUFAs as adjunctive treatment for depression. Omega-3 supplements (mean: 1,422 mg/d eicosapentaenoic acid) significantly reduced depressive symptoms (P = 0.006), and as adjunctive therapy to antidepressants, had moderate effects on depressive symptoms (P = 0.009), as they did when used as adjunctive treatment to antidepressant therapy in patients with MDD (P = 0.01).
When they assessed different omega-3 formulations for the treatment of individuals with any clinical depression, Dr. Firth et al found that those supplements containing ≥ 50% docosahexaenoic acid had no benefits, while those with ? 50% eicosapentaenoic acid had fairly significant positive effects on depressive symptoms (P < 0.001). Furthermore, longer treatment ( ? 12 weeks) with omega-3s demonstrated greater effects on depressive symptoms than treatment lasting 12 weeks or less (P < 0.01 vs P < 0.001, respectively). And adjunctive treatment was more effective for depression compared with monotherapy (P < 0.001 vs P = 0.017).
Omega-3s had no significant effects on mania in people with bipolar disorder, and there was no evidence that PUFAs provide any benefit in the treatment of schizophrenia.
However, the researchers did find that PUFAs may offer some benefits in the treatment of ADHD in young people and children, with significant benefits for hyperactivity/impulsivity (P = 0.006) and inattention (P = 0.006), but only on parent-rated measures, not teacher/clinician rated measures.
Folate-based supplements. Many of the included studies were focused on folate-based supplements as adjunctive treatment for depression and schizophrenia. Researchers found that high-dose methylfolate (15 mg/d) demonstrated positive effects in patients with MDD (P = 0.002), but lower doses had no significant effects.
Folate-based supplements, including folic acid and methylfolate, brought about significantly greater reductions in the symptoms of depression compared with placebo when used as an adjunct to treatment with to selective serotonin reuptake inhibitors in patients with unipolar depression.
For the adjunctive treatment of schizophrenia, however, folate-based supplements had non-significant effects on total symptoms, but approached significance in two trials of high-dose methylfolate (P = 0.06). Researchers found an overall absence of overall effects.
Inositol. For the treatment of depressive symptoms associated with bipolar disorder, unipolar depression, and premenstrual dysphoric disorder, researchers found no significant differences in effect between inositol (3.6-19 g/d) and placebo. Inositol was also associated with a higher incidence of gastrointestinal upset.
Amino acid cysteine (N-acetylcysteine). N-acetylcysteine (2-3 g/d) had small but significant effects on global functioning (P = 0.04) and other measures of functional impairment (P = 0.002) compared with placebo in people with mood disorders such as bipolar disorder and MDD.
Other findings included the following:
In patients with clinical depression, vitamin D significantly reduced depressive symptoms (P < 0.01)
As an adjunctive treatment for MDD, zinc (25 mg/d) demonstrated moderately significant effects on easing depressive symptoms (P ≤ 0.01)
In patients with self-reported depression, the effects of magnesium (225-4,000 mg/d) was no different than placebo
Antioxidant vitamins, including vitamins C and E, had no effects on symptoms scores in schizophrenia, as did zinc and chromium, and vitamin B6
N-acetylcysteine was also backed by data as a useful adjunctive treatment for mood disorders and schizophrenia
For managing the side effects of antipsychotic medications, specifically tardive dyskinesia, vitamin E was no better than placebo
These results offer hope that patients with these mental health disorders may benefit from the addition of simple nutritional supplements.
"In conclusion, clinicians should be informed of the nutrient supplements with established efficacy for certain conditions (such as eicosapentae­noic acid in depression), but also made aware of those currently lacking evidentiary support," wrote the authors.
Posted on November 13, 2019, in Uncategorized. Bookmark the permalink. Comments Off on Think supplements are worthless? Think again.