With the rise in food allergies over the last ten to 20 years, parents are understandably concerned about what – if anything – can be done to reduce the chances of their child developing a food allergy. Expectant mums often ask whether there's anything they should eat, or avoid eating, to reduce the risk of food allergy in their child.
In the past, some guidelines recommended mums avoid eating "allergenic" foods (foods that commonly cause reactions in individuals with food allergy) during pregnancy and breastfeeding. This advice has now been removed because it hasn't prevented food allergies in the child. So what do we know (and not know) about the link between foods eaten during pregnancy and food allergies in children?
---
Read more – Curious Kids: How do we get allergic to food?
---
What is a food allergy?
There are many different types of reactions to foods. Those involving the immune system are classified as allergies.
The type of allergy most studied is called "IgE-mediated" food allergy (IgE refers to immunoglobulin – the antibodies produced by our immune system). In IgE-mediated food allergy, the immune system responds to a particular food or foods in the same way it would respond to something dangerous. It causes symptoms that we call an allergic reaction. Food allergy can occur to a wide range of foods, but common culprits are peanut, tree nuts, egg, milk, soy, wheat, fish and shellfish.
For people with this type of food allergy, reactions generally occur rapidly, sometimes within minutes of ingesting the food. Common symptoms include hives (raised wheals that resemble mosquito bites), vomiting, and swelling of the lips, eyes, or face. Less commonly, reactions can involve the airways or circulation, resulting in potentially life-threatening symptoms like difficulty breathing, wheezing or collapse.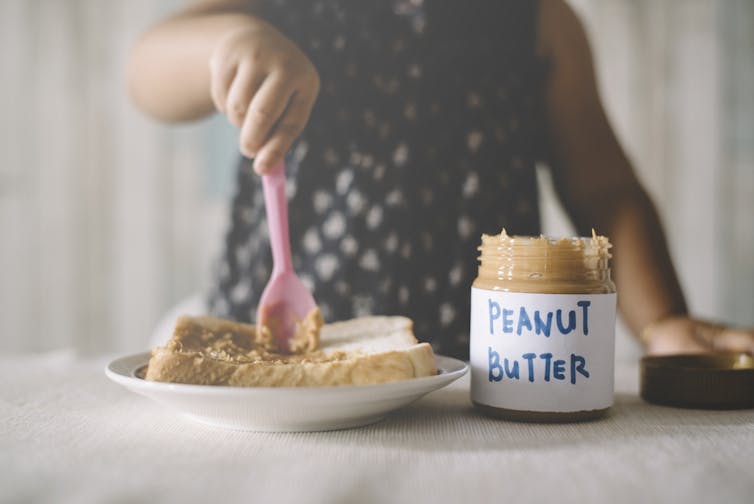 In Australia, IgE-mediated food allergy now affects around one in every ten babies, and around one in 20 older children. It usually develops in infancy or early childhood, and can be lifelong.
---
Read more: Food allergies linked to overactive immune system at birth
---
Can we prevent children from developing food allergy?
The normal response to eating a food is "tolerance". In other words, the immune system sees the food as harmless and does not mount a response. Interventions to prevent food allergy aim to promote the development of tolerance.
Ten years ago, no one knew how this could be achieved. Since then, there have been major advances. Perhaps the most important is the recent discovery by researchers in the UK that peanut allergy can be prevented in some children who are at high risk of developing it.
In a study in which 600 children with eczema or egg allergy were randomly assigned to either eat or avoid peanut, those who started eating peanut earlier (before they were one year old) were less likely to have peanut allergy at age five than those who avoided peanut. Studies have also shown eating egg earlier may protect against egg allergy, although this protective effect does not appear to be as strong as for peanuts.
As a result of this study, parents are now advised to introduce foods like peanut and egg to infants before one year of age.
---
Read more: Introduce eggs and peanuts early in infants' diets to reduce the risk of allergies
---
Although this is an important advance in knowledge, the research also showed this isn't effective for everyone. Some children develop food allergy very early in life, too early to benefit from being given foods like peanut before one year.
It's also clear infant diet isn't the only factor that determines whether a child develops a food allergy, since most children do not develop food allergy regardless of the age when foods like peanut and egg are first given. And some children develop food allergy even with an optimal diet.
Maternal diet and food allergy
Immune responses to foods like egg and peanut can be detected in some infants in the first few months of life, before these foods are introduced into the infant diet. This means food allergy prevention might need to start earlier than previously thought.
A recent study in mice reported that milk from mothers exposed to egg protein protected offspring from developing allergic reactions to egg. This protection was strongest when the mothers were exposed to egg proteins during both pregnancy and breastfeeding. At the moment it's not known whether this is also the case in people.
---
Read more: What are allergies and why are we getting more of them?
---
The Australasian Society of Clinical Immunology and Allergy does not recommend excluding allergenic foods during pregnancy or breastfeeding.
We don't know yet whether eating more of foods like peanuts or eggs in pregnancy can reduce the risk of the child developing a food allergy. But answers should be available soon. A study led by researchers at the University of Western Australia is about to look in detail at how the amount of egg and peanut eaten by mums relates to their child's risk of having an egg or peanut allergy.
This is a large study which will take several years to complete, but hopefully we will be able to provide evidence-based advice for maternal diet, the same way we can for infant diet, very soon.